FARGO – After nearly 20 years of work, the Red River Valley Hospice will soon begin construction of North Dakota's first hospice home.
It's been decades of work, but Tracee Capron, executive director of the Hospice of the Red River Valley, said Friday, May 20 that HRRV's board, donors and staff have decided the time is right to bring the vision to life. Groundbreaking for the nursing home will be Thursday, May 26 at 3800 56th Ave. S. held in Fargo.
The hospice home, Capron explained, is a place where families with hospice patients can meet in a quiet, comfortable environment. Essentially a "hospital in disguise," the hospice home serves as a place for family and loved ones to gather in a place that feels more like home than a sterile hospital environment. "They take a lot of medical stuff from a hospital and dress it up in a home," Capron said.
In most cases, patients can occupy one of the 18 rooms in the hospice building for five days and five nights to receive end-of-life care. Capron described the hospice home as a "stepping stone" that allows patients to transition from hospital care back to their homes. The hospice house can also be used when care in a home environment is simply not manageable.
While some patients may ultimately die in the hospice home, for others it offers the opportunity to get their symptoms under control and stabilized enough to return home safely to spend their final days. For those who qualify, a stay in the hospice home comes at no additional cost thanks to insurance or Medicare benefits.
The Red River Valley Hospice has been considering building a hospice home for nearly 20 years.
The reason the planning for the hospice home, which is funded entirely by donors, took so long is because Hospice of the Red River Valley wanted to get it right. That meant strengthening the infrastructure and financial foundation of the non-profit organization. "We wanted to make sure it was sustainable well into the future," Capron said.
The COVID-19 pandemic has also accelerated the schedule, Capron explained.
At the height of the pandemic, many patients had to die alone, without loved ones by their side. If the hospice had existed then, this pain could have been avoided. "Nobody should have died alone," Capron said.
Visitation restrictions during the pandemic cut the connection between patients and families. This could have been avoided in the hospice house, as each room has its own entrance and direct access to the outside. "Not having access to the person you love, or your child, or your spouse, especially during COVID, is unacceptable," Capron commented.
These difficulties caused by the pandemic only increased Red River Valley Hospice's desire to build the hospice home, even if it meant dealing with construction headaches. "COVID has absolutely driven it," Capron said. "It was a challenge, but the need has increased."
For Capron, bringing a hospice home to North Dakota is more than just a service to the community, it is also a deeply personal endeavor.
Capron previously worked in Ohio as the vice president of care innovation at Community Hospice. There she played a role in opening a hospice home for Community Hospice. Years later, her family used the same hospice home when her son entered hospice care.
As a veteran of hospice care, Capron knew exactly what to do when she found out about her son's cessation. "You get the message that you have weeks of your life left," she said. "How are you? You can't see your family. Your family can't be there. What's that like?"
Her next call was to the hospice. Your family has been set up in a comfortable, tasteful environment where family could just be family. "I'm so thankful and thankful that I had that because he had kids and his kids could have support. We could have support, but we could be there as a family," Capron recalled. "I could be his mother. I didn't have to be a caregiver. His medical needs were met in a beautiful setting that made the children feel comfortable and safe, not sterile."
Capron believes hospice care is about living and creating memories despite negative medical prospects. When someone asked her what the greatest moment was during her son's hospice treatment, she responded by listing each one of them. "You have that in a hospice house. You can create these moments simply as a family. You don't have to be the caregiver," she said.
Capron kept coming back to the word heart when describing the hospice house.
The overlapping hands in the Red River Valley Hospice logo form a heart. Hearts cut out adorn the windows of Capron's office. A mosaic of staff-painted hearts greets visitors near reception.
The heart, Capron said, also represents the Fargo-Moorhead community. "They help other people, they care deeply about their neighbors, they stand up for those in need," she noted.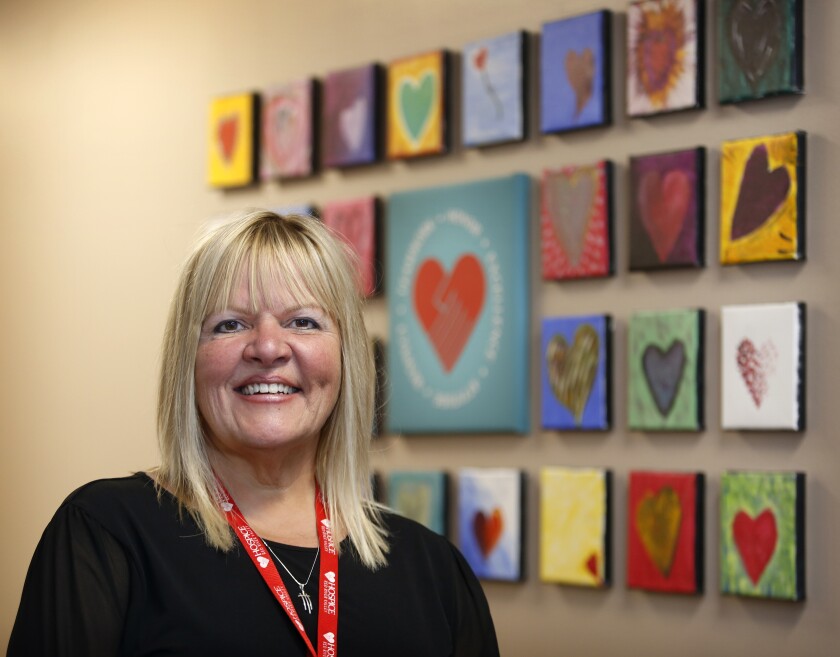 This continuous support is finally making the hospice a reality. Capron expected construction to be complete in late 2023 or early 2024.
After the opening, the hospice house will have 18 beds. Capron estimates the facility could treat 1,205 patients per year, plus their families who have access to additional bereavement and bereavement resources.
Consistent with the goal of creating a sense of home, Capron said the hospice home will reflect the prairie and lake environment that covers HRRV's massive geographic footprint. Wood features throughout provide a cabin-like feel, while hiking trails, trails, an outdoor pond, and fire pits encourage patients and their families to enjoy the great outdoors.
Inside, rooms offer floor-to-ceiling windows and large doorways, allowing beds to be pushed outside. Kitchen tables and chairs offer families a place to eat together. Families can even stay overnight as guest rooms are available free of charge. Each wing will include a shared family room and a four-season room, providing even more space for families to gather.
The "Village Row" section of the facility will feature a children's liquor store, a playroom and a general store.
For medical care, the hospice house will have a full team of experts, including doctors, nurses, orderlies and other medical workers. "The beauty of hospice is that there is an entire clinical team helping a patient," Capron noted.
Treating the symptoms, she noted, is the easy part. It is more difficult to care for the bereaved, which is why the hospice will also offer social workers, chaplains, bereavement and bereavement support, volunteers, community education courses and self-help groups.
The goal of everything, Capron explained, is to make sure the final memories families make with their loved ones are positive ones. "It should be a beautiful, peaceful experience," she said. "It can be and it should be."